Iwami-Ginzan
Iwami Ginzan Silver Mine was listed as a World Heritage Site in July 2007. Mining here started in 1526. The heyday of this mine then came later from the mid-16th century to the 17th century. This is a historic site that continued to support the peak of the silver rush in Japan over 400 years. You can see this site where people at that time mined by hand remaining as it was then. This site has attracted the attention of experts around the world. Exploring the historic town and harbor in the surroundings together with the traces of the people who once lived here and Iwami Ginzan Silver Mine is an extremely rare opportunity.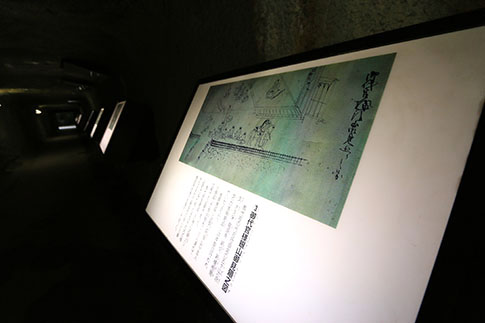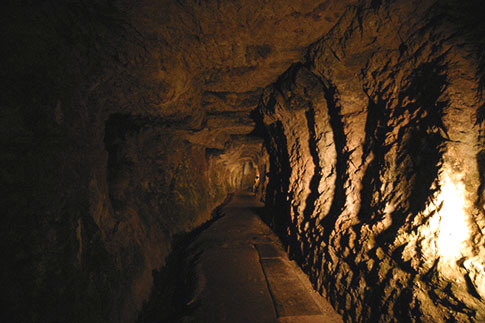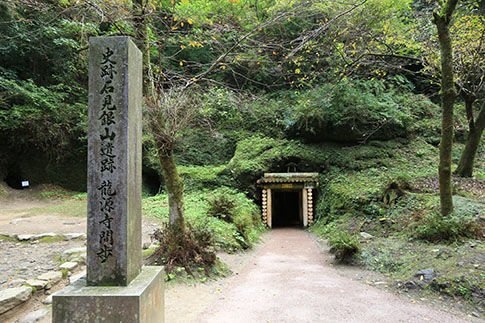 Yunotsu-Onsen
This is Yunotsu Onsen Town in Nogawaya. This was the first hot spring town in Japan to be listed as an important traditional architectures preservation district. This continues to protect the area to make sure it does not lose its traditional spirit and atmosphere. The hot springs here are said to have a history of 1,300 years. The quality of these hot springs is extremely high and there are still many people to this day who use it as hot water to cure injury or illness. The bathtubs that look like flowing lava are proof of the high quality of this spring water.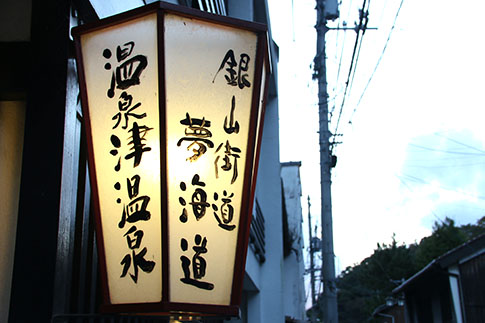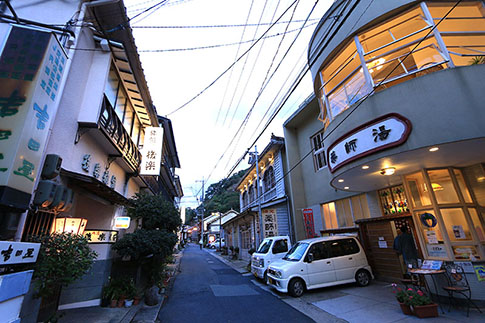 Facilities
Guest Rooms
We have three types of guest room available. All of these are Japanese-style rooms. We have reasonable six tatami mat rooms, standard eight tatami mat rooms and spacious double rooms. Our rooms come with yukatas (light cotton kimonos), tea & sweet set, air conditioner, safe and refrigerator. Spending your time in a relaxed manner by sitting in a chair on the veranda is a traditional way to unwind in Japan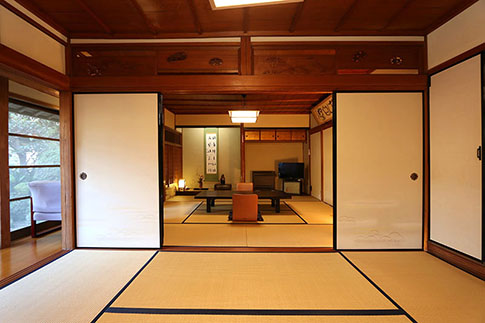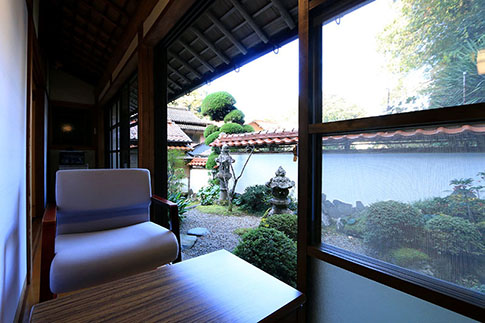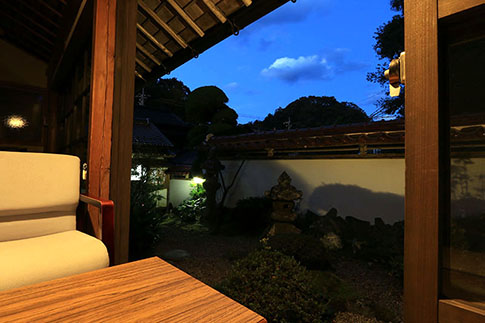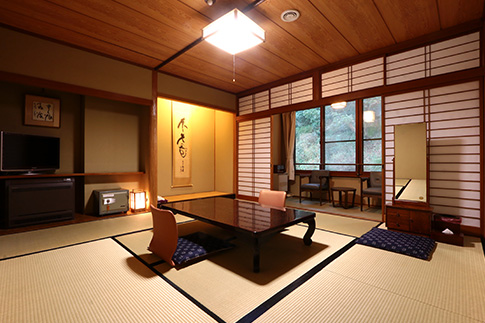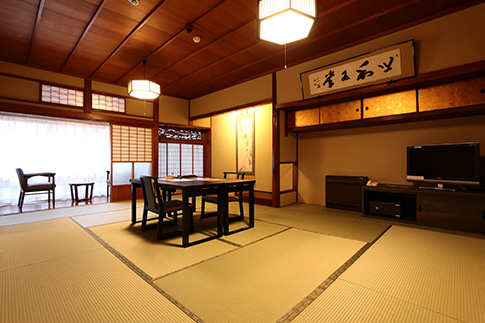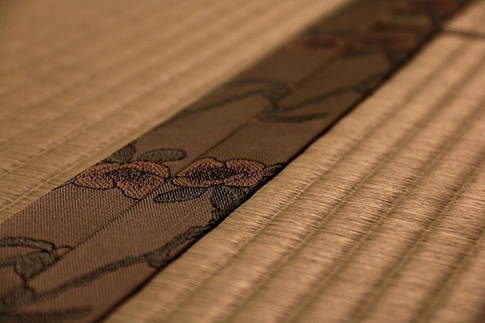 Baths
There are spacious baths for both men and women. The two baths alternate between being available for men and women in the morning and evening. This means you can enjoy two different bathtubs. In addition, we have a bath you can reserve for private bathing (Tanuki-no Yu). Please reserve this at the front desk when you check-in.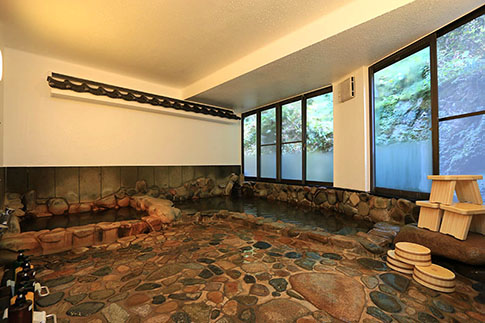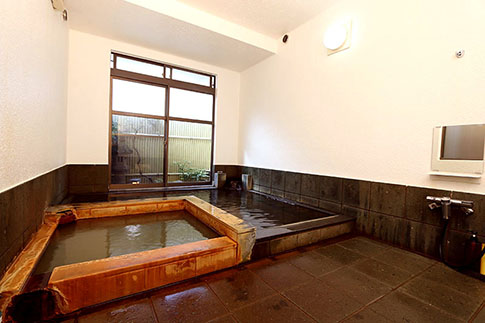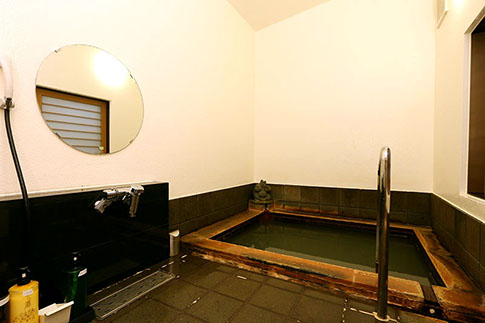 Cuisine
We serve kaiseki (set of dishes on a tray) as standard with a focus on seafood caught by local fisherman in the nearby coastal waters. In addition, you can try our nodoguro (blackthroat seaperch) boiled in soy sauce that has become popular throughout Japan in recent years. We also provide the Nogawaya specialty sea bream hosho-yaki¬ – sea bream wrapped in paper and grilled. When you tear away the paper, steam will rise up and you can eat this dish while it is piping hot. Our branded cattle Iwami Ginzan Japanese beef is extremely tender and juicy meat with fine quality fat.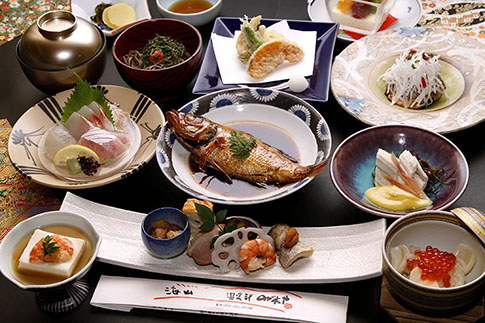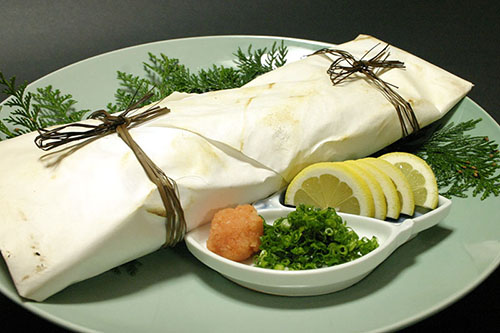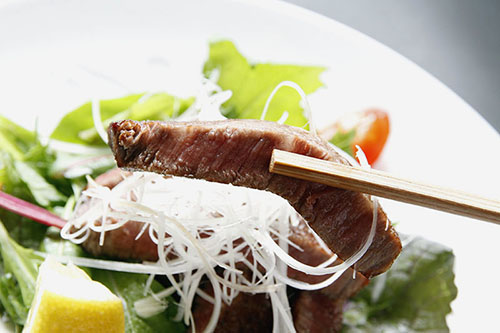 Charge
Accommodation Rates (1 Night and 2 Meals Including Consumption Tax) for One Adult
*There is a separate 150 yen hot spring tax for adults to be paid on-site.
| | Room without Bath and Toilet | Room with Bath and Toilet |
| --- | --- | --- |
| Weekday or holiday | 11,000 to 13,200 yen | 13,200 to 16,500 yen |
| Day before a holiday | 12,100 to 14,300 yen | 14,300 to 18,700 yen |
| Special day | 14,300 to 16,500 yen | 17,600 to 19,800 yen |
Special days: April 29 to May 5, August 13 to 15 and December 30 to January 3
*Rate for children (up to the age of 12): We provide a meal with slightly less food than with the adult menu for 70% of the rate for adults. We offer lunch for children at a uniform price.
Access
Railway
Nearest station: Yunotsu Station on the JR Sanin Main Line (It is 1km to Nogawaya from the station)
We will come to pick you up if you give us a telephone call when you arrive. Alternatively, we will be waiting for you at the station if you inform us of your arrival time in advance. Of course, we will also take you back to the station when you return.